The 2022 Subaru Love Promise Customer and Community Commitment Award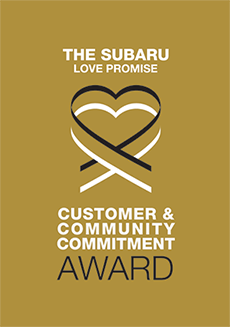 We've been nationally recognized for our dedication to our customers, our community, and the Subaru Love Promise.
We're honored to receive the 2022 Subaru Love Promise Customer and Community Commitment Award. This award nationally recognizes elite Subaru retailers who provide an exceptional customer experience at every interaction with Subaru. These retailers have also demonstrated an outstanding commitment to supporting passions and causes in their local communities in important areas such as the environment, community, health, education, and pets.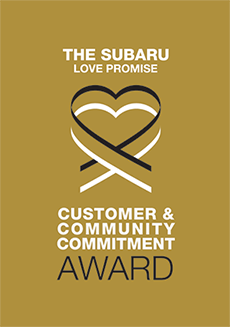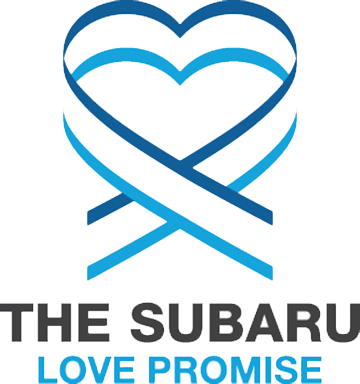 What is the Subaru Love Promise?
Subaru and our retailers believe in making the world a better place and the Subaru Love Promise is our vision of respecting all people. This is our commitment to show love and respect to our customers and to work to make a positive impact in the world.
How is Frank Subaru dedicated locally to the Love Promise?
Our Love Promise can be seen in various partnerships with local charities and non-profits. We're grateful for the opportunity, not only to be a part of our community, but to serve it as well.
Chula Vista Animal Care Facility, Helen Woodward Animal Center
San Diego Zoo, Olivewood Gardens
Big Brother Big Sisters of San Diego County, Jackie Robinson YMCA, Meals on Wheels San Diego, San Diego Symphony, Make-A-Wish San Diego, Humble Design San Diego, Miracle Babies, San Diego Rescue Mission, Feeding San Diego
Rady Children's Hospital, Leukemia & Lymphoma Society's San Diego / Hawaii C
Love Promise Stories from Frank Subaru
Subaru and Frank Subaru believe in making a positive impact on the communities in which we live and work. We uphold that belief through our Love Promise Community Commitment. Every month, we select inspiring stories from customers and partners from around our area who strive to support our collective commitment and feature them here
Thanks Frank Subaru! - Mark E
Thank you to Frank Subaru for supporting The Rooted Progress with our 3,000 Youtube Subscriber Giveaway. With Frank Subaru's contributions, we were able to provide our growing community of active, outdoor, camping, Subaru enthusiasts emergency safety gear and products to further enjoy/encourage an active lifestyle. We have diligently continued to be active members in our local Subaru communities, promoting outdoor lifestyles and ultimately enjoying the outdoors. Most of our outdoor travels involve the use of primitive campsites, where we demonstrate respectful camping, camping hacks, and tips on how to make yourself ready for the outdoors. With the support from Frank Subaru, we have been able to continue encouraging more people to explore the outdoors by giving them products they will be able to use during their next adventure! Thank you Frank Subaru for always being there for our community of outdoor enthusiasts, we wouldn't be able to help the community without your support! We look forward to working with Frank Subaru again in the future and thank you for always supporting The Rooted Progress and our community of outdoor enthusiasts!
---
Humble Design San Diego Hometown Chairty - Laura L
Humble Design San Diego is honored to have been designated as a Hometown Charity for the 2021 Subaru Share the Love Event. We are deeply grateful for the incredible support that has been directed to Humble Design to help us in our mission to serve families, veterans, and individuals emerging from homelessness. Thanks to the generosity of Frank Subaru, their customers and Subaru of America we were presented check for $27,182. The funds will be used to help five families who have moved out of homelessness into empty houses will receive a whole-home transformation that changes lives for good. Our team of professional interior designers meet with our clients to talk about their journey through and out of homelessness, and then shift into HGTV-style design consults about our design styles, favorite colors, kids' interests, etc. Then, our designers shop our 9,000-square-foot warehouse crammed full of donated furniture and home goods and create a custom home design based on our clients' needs and preferences and hopes. Three days later, with an army of volunteers, Team Humble arrives to our clients' empty houses and fills them with everything needed to make a house into a home. This act of service helps to break the cycle of homelessness; our clients are given dignity, security, beauty, and hope – and they do not return to the shelters or the streets. Thank you, Frank Subaru community, for making this possible for five deserving families. You are changing lives for good, and the Humble Design community is endlessly grateful for your investment, your generosity, and your kindness.
---
SD Subies Earth Day Beach Clean Up - Rosie L
Thank you to Frank Subaru for supporting San Diego Subies with our Earth Day beach Clean up weekend. San Diego Subies received amazing supplies such as trash pickers, Subaru gloves, bottles of hand sanitizers, Subaru masks, Subaru scales, reusable bags along with burlap bags from Frank Subaru in support of our beach clean up. With the great support and a loving community of Subaru owners, we were able to collect 365 lbs of trash for the first day, April 22nd, and 1005 lbs of trash collected for our second day, April 23rd. In total, we were able to collect 1370 lbs of trash off of Fiesta Island in 5 hours. Without the help of Frank Subaru and their donated items, we would not be able to collect as much trash as we did. We were able to have a safe and clean way of giving back to the community while keeping ourselves safe also. Trash isn't pretty, but with the thick Subaru gloves, Subaru masks and bottles of hand sanitizers that was provided by Frank Subaru, we were able to get down and dirty while still keeping ourselves clean. San Diego Subies have always tried to give back to our community by doing beach clean ups, toy drives for kids, school fundraisers and many more events just before the pandemic happened. We are so thankful to have Frank Subaru support us for our first big event since the pandemic. With the help of Frank Subaru, we were able to beat not only our goal of how much trash we would collect but create a new level of WOW to our 1370 lbs of trash collected. We love working with Frank Subaru and we can't wait to work along side with them again in the future! Thank you guys for always supporting San Diego Subies!
---
Helping heal the tiniest hearts - Christina L
Thank you to Frank Subaru for supporting Rady Children's Hospital's Heart Institute during the 2021 Subaru Share the Love Event. We've received a $34,292 donation which allowed us to provide cutting edge medical care to the patients and families who rely on our Heart Institute every day. Thanks to your generous gift, our Heart Institute is able to: - Treat the 1 in 100 newborns who are born with congenital heart defects - Provide over 31 heart transplants to date through our region's only dedicated pediatric heart failure and transplant program - Participate in cardiac research that is among the nation's most sophisticated – we are currently involved in more than 65 studies - Provide safer, less invasive heart procedures that don't require radiation: such as repairing holes in the heart, replacing valves and connecting vessels. Thank you Frank Subaru, for your impactful support to help us heal the tiniest hearts!
---
Read Across America Day - Monica C
Read Across America Day this year was on March 2. We celebrated reading books on diversity and believing in yourself. Thanks to Frank Subaru Marketing Director Monica Salem for virtually visiting the third grade classes at Olivewood School in National City and reading the book, I Promise, by Lebron James. This book opened up a conversation on the many ways they can make promises to themselves, friends, family and their community. The message they came away with is that they can do anything, just believe in yourself. The best part was that on behalf of Frank Subaru, Monica donated a book to each of my students. They were so excited! We spent the rest of the day writing the promises they have for themselves. Thank you Monica and Frank Subaru for promoting the love of reading to our students and always supporting our community!
---
Humble Design Day of Service (February 18, 2022) - Laura L
In service to the mission of Humble Design San Diego to serve people emerging from homelessness, Frank Subaru gave of their time, their hearts, their resources, and their network of caring community members and changed the lives of a family of six for good. By sponsoring a Humble Day of Service, the team at Frank Subaru funded the whole-home transformation of a family who had finally gained housing after experiencing homelessness for the better part of a decade. Although they finally had a roof over their head, this single mother and her five children had been unable to afford the things that make an empty house into a home and had been choosing food over furniture for the previous two months. Thanks to Frank Subaru's partnership with Humble Design, this family was given an entire house filled with furniture and home goods personalized to their style and interests. The professional interior design team at Humble Design met with the family to talk about their story and then hand-selected items from the Humble warehouse full of donated furniture and home goods to fit the family's personal style. Later that week, Team Frank Subaru--along with professional colleagues from the organization Vistage--joined Team Humble and took the family's empty space and filled it with all the items that had been chosen for them. The team helped to unload the truck, clean and organize the kitchen, place furniture and hang artwork, set the table, make the beds, and decorate each room with touches that reflect those things that mean most to the family. At the end of the day, the family came home for an HGTV-style reveal and was able to see their transformed home for the first time. It was a joy and an honor to work alongside the Frank Subaru team and community in service to our neighbors. It is a powerful message to give to a family who has experienced deep trauma, loss, and unspeakable challenge that there are people in the neighborhood who care about them and want to see them succeed and thrive. We are grateful for the partnership we have built over the years with the Frank Subaru family who embody Humble Design's commitment to the community of "Togetherness to End Homelessness."
---
Subaru Loves Pets - Chula Vista Animal Care Facili - Ashley M
Frankie, a 3 year old America Bulldog mix, was found in March roaming the streets of Chula Vista. A concerned citizen rescued him and brought him to the Chula Vista Animal Care Facility, hoping to reunite him with his family. Sadly, no one came looking for him. During his initial few weeks, he was understandably scared and decided the best defense is a good offense, trying to appear scary to keep the unknown people away! Staff worked hard to get past the façade and show Frankie that life isn't all that terrible, we could be friends! It took a few months of visits and play time with one or two staff members, gradually building up to as many people as we could get him to meet. Eventually, Frankie was much more open to new people and experiences. Although he still had a few hurdles, the Cardona family saw the love in his eyes and the desire for a family. The whole family came down to meet him, including their current dog… who was barely tall enough to reach Frankie's elbows! After a short trial period to ensure he adjusted well to the new environment, Frankie was adopted… 2 days shy of SEVEN MONTHS! After months of dedication and building a relationship, tears of joy were shed!
---
Furr-ever New Home - Barry S
Helen Woodward Animal Center is honored to partner with Frank Subaru to share the love between our rescue pets and their adoptive families. As a result of Frank Subaru's financial support, the Center is not only able to provide for the extensive care of our orphan pets but we are also able to share our marketing channels to get the word out about the importance of pet adoption. Through our two social media takeover days we were able to show Frank Subaru customers the beautiful animals that are available for adoption at Helen Woodward Animal Center on-line and in-person and through our Adoption photo opportunity "going home" signs with the Frank Subaru logo we were able to utilize our social media reach and that of all of our adopters to share the message about the joy of pet adoption and Frank Subaru's commitment to helping pets in need.
---
Frank Subaru Furnishes Homes with Humble Design - Laura L
As we all continue to navigate the realities of a pandemic world, the impact on people experiencing homelessness has continued to grow. To meet this growing need, Humble Design San Diego partnered with Frank Subaru to double the number of families, veterans, and individuals leaving homelessness whom we serve. Over the summer of 2021, Humble Design and Frank Subaru worked together to take the empty houses of families leaving homelessness and transform them into personalized, professionally-designed homes filled with furniture and household items donated by the community. This act of service breaks the cycle of homelessness for Humble's clients and their families for generations to come. One of our clients, Ivette, shared the power of the Humble Design / Frank Subaru partnership for herself and her three young sons, saying: "Life has been so much better after the makeover. To see my boys playing in their rooms, laying on their beds, running around is an unexplainable feeling. We now all have our own beds and furniture, but you also gave us more, and filled our home with toys, kitchen appliances, and beautiful decorations. You provided us a new beginning, comfort, a feeling that hasn't been there before. I'm so happy to have had you as a huge part of our fresh, new beginning. You made that happen for us. A lot of times when people get a new home, they have a support system that helps them, with moving, house-warming, etc. Well, you were the family that stepped in. You not only took time to plan and create this home to fit our personalities, you also created liveliness and joy. You took a huge weight off of my shoulders. Thank you for making my house a home."
---
Make-A-Wish® San Diego, Valerie's Wish - Grace J
17-year-old Valerie lives with a nervous system disorder that impacts her mobility and daily life. Valerie loves to create art and upon referral to Make-A-Wish® San Diego, was excited about the idea of having a dedicated space to be creative. Valerie wished for a she-shed powered by solar panels so that she could have her very own space for sewing, painting and relaxing. Make-A-Wish San Diego is able to grant life-changing wishes like Valerie's thanks to the generous support of partners like Frank Subaru, who, through their sponsorship of the Trailblaze Challenge San Diego, engaged their own employees to take part in the journey. The Trailblaze Challenge is a one-day 28-mile hike on the Pacific Crest Trail; as well as being an extraordinary physical test, the real challenge is to raise much needed funds to grant the wishes of children in San Diego with critical illnesses. Shout out to Nick, Taylor, Michael and Josh, who completed the 28 miles with smiles on their faces and a couple weeks later they brought Valerie's wish to life. Leading up to wish day, the Frank Subaru Team showed up to reveal to Valerie that her wish would be coming true! Monica, Elise, and Ron joined the Make-A-Wish team in a surprise visit with gifts and all her favorite snacks to enjoy in her new she-shed, which would be completed in just a few short weeks. On the day of Valerie's wish, after the concrete was poured, the shed was installed, and the solar panels put in, members of the Frank Subaru team collaborated with Make-A-Wish staff and volunteers to complete the finishing touches on Valerie's perfect creative space! Her reaction upon entering the yard, seeing her new space for the first time, and cutting the ceremonial ribbon was priceless. A wish experience is proven to give children renewed energy and strength, bring families closer together and unite communities. The impact this wish had on Valerie is undeniable. A huge thank you to Frank Subaru for your generosity, commitment to Make-A-Wish San Diego and the Trailblaze Challenge SD and your hearts for making wishes like Valerie's come true! To learn more about Make-A-Wish San Diego, please visit www.sandiego.wish.org and for more information on the Trailblaze Challenge San Diego, visit www.trailblazechallengesd.org.
---