The 2021 Subaru Love Promise Customer and Community Commitment Award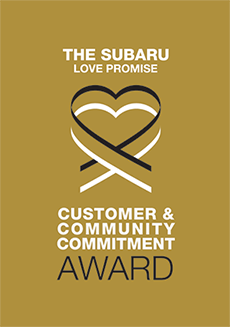 We've been nationally recognized for our dedication to our customers, our community, and the Subaru Love Promise.
We're honored to receive the 2021 Subaru Love Promise Customer and Community Commitment Award. This award nationally recognizes elite Subaru retailers who provide an exceptional customer experience at every interaction with Subaru. These retailers have also demonstrated an outstanding commitment to supporting passions and causes in their local communities in important areas such as the environment, community, health, education, and pets.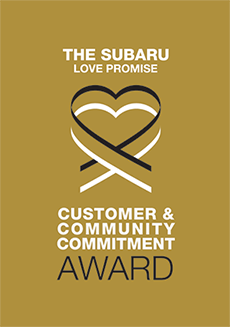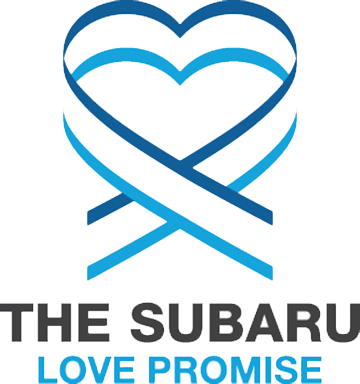 What is the Subaru Love Promise?
Subaru and our retailers believe in making the world a better place and the Subaru Love Promise is our vision of respecting all people. This is our commitment to show love and respect to our customers and to work to make a positive impact in the world.
How is Frank Subaru dedicated locally to the Love Promise?
Our Love Promise can be seen in various partnerships with local charities and non-profits. We're grateful for the opportunity, not only to be a part of our community, but to serve it as well.
Chula Vista Animal Care Facility, Helen Woodward Animal Center
San Diego Zoo, Olivewood Gardens
Big Brother Big Sisters of San Diego County, Jackie Robinson YMCA, Meals on Wheels San Diego, San Diego Symphony, Make-A-Wish San Diego, Humble Design San Diego, Miracle Babies, San Diego Rescue Mission, Feeding San Diego
Rady Children's Hospital, Leukemia & Lymphoma Society's San Diego / Hawaii C
Love Promise Stories from Frank Subaru
Subaru and Frank Subaru believe in making a positive impact on the communities in which we live and work. We uphold that belief through our Love Promise Community Commitment. Every month, we select inspiring stories from customers and partners from around our area who strive to support our collective commitment and feature them here
Subaru Loves Pets - Chula Vista Animal Care Facili - Ashley M
Frankie, a 3 year old America Bulldog mix, was found in March roaming the streets of Chula Vista. A concerned citizen rescued him and brought him to the Chula Vista Animal Care Facility, hoping to reunite him with his family. Sadly, no one came looking for him. During his initial few weeks, he was understandably scared and decided the best defense is a good offense, trying to appear scary to keep the unknown people away! Staff worked hard to get past the façade and show Frankie that life isn't all that terrible, we could be friends! It took a few months of visits and play time with one or two staff members, gradually building up to as many people as we could get him to meet. Eventually, Frankie was much more open to new people and experiences. Although he still had a few hurdles, the Cardona family saw the love in his eyes and the desire for a family. The whole family came down to meet him, including their current dog… who was barely tall enough to reach Frankie's elbows! After a short trial period to ensure he adjusted well to the new environment, Frankie was adopted… 2 days shy of SEVEN MONTHS! After months of dedication and building a relationship, tears of joy were shed!
---
Furr-ever New Home - Barry S
Helen Woodward Animal Center is honored to partner with Frank Subaru to share the love between our rescue pets and their adoptive families. As a result of Frank Subaru's financial support, the Center is not only able to provide for the extensive care of our orphan pets but we are also able to share our marketing channels to get the word out about the importance of pet adoption. Through our two social media takeover days we were able to show Frank Subaru customers the beautiful animals that are available for adoption at Helen Woodward Animal Center on-line and in-person and through our Adoption photo opportunity "going home" signs with the Frank Subaru logo we were able to utilize our social media reach and that of all of our adopters to share the message about the joy of pet adoption and Frank Subaru's commitment to helping pets in need.
---
Frank Subaru Furnishes Homes with Humble Design - Laura L
As we all continue to navigate the realities of a pandemic world, the impact on people experiencing homelessness has continued to grow. To meet this growing need, Humble Design San Diego partnered with Frank Subaru to double the number of families, veterans, and individuals leaving homelessness whom we serve. Over the summer of 2021, Humble Design and Frank Subaru worked together to take the empty houses of families leaving homelessness and transform them into personalized, professionally-designed homes filled with furniture and household items donated by the community. This act of service breaks the cycle of homelessness for Humble's clients and their families for generations to come. One of our clients, Ivette, shared the power of the Humble Design / Frank Subaru partnership for herself and her three young sons, saying: "Life has been so much better after the makeover. To see my boys playing in their rooms, laying on their beds, running around is an unexplainable feeling. We now all have our own beds and furniture, but you also gave us more, and filled our home with toys, kitchen appliances, and beautiful decorations. You provided us a new beginning, comfort, a feeling that hasn't been there before. I'm so happy to have had you as a huge part of our fresh, new beginning. You made that happen for us. A lot of times when people get a new home, they have a support system that helps them, with moving, house-warming, etc. Well, you were the family that stepped in. You not only took time to plan and create this home to fit our personalities, you also created liveliness and joy. You took a huge weight off of my shoulders. Thank you for making my house a home."
---
Make-A-Wish® San Diego, Valerie's Wish - Grace J
17-year-old Valerie lives with a nervous system disorder that impacts her mobility and daily life. Valerie loves to create art and upon referral to Make-A-Wish® San Diego, was excited about the idea of having a dedicated space to be creative. Valerie wished for a she-shed powered by solar panels so that she could have her very own space for sewing, painting and relaxing. Make-A-Wish San Diego is able to grant life-changing wishes like Valerie's thanks to the generous support of partners like Frank Subaru, who, through their sponsorship of the Trailblaze Challenge San Diego, engaged their own employees to take part in the journey. The Trailblaze Challenge is a one-day 28-mile hike on the Pacific Crest Trail; as well as being an extraordinary physical test, the real challenge is to raise much needed funds to grant the wishes of children in San Diego with critical illnesses. Shout out to Nick, Taylor, Michael and Josh, who completed the 28 miles with smiles on their faces and a couple weeks later they brought Valerie's wish to life. Leading up to wish day, the Frank Subaru Team showed up to reveal to Valerie that her wish would be coming true! Monica, Elise, and Ron joined the Make-A-Wish team in a surprise visit with gifts and all her favorite snacks to enjoy in her new she-shed, which would be completed in just a few short weeks. On the day of Valerie's wish, after the concrete was poured, the shed was installed, and the solar panels put in, members of the Frank Subaru team collaborated with Make-A-Wish staff and volunteers to complete the finishing touches on Valerie's perfect creative space! Her reaction upon entering the yard, seeing her new space for the first time, and cutting the ceremonial ribbon was priceless. A wish experience is proven to give children renewed energy and strength, bring families closer together and unite communities. The impact this wish had on Valerie is undeniable. A huge thank you to Frank Subaru for your generosity, commitment to Make-A-Wish San Diego and the Trailblaze Challenge SD and your hearts for making wishes like Valerie's come true! To learn more about Make-A-Wish San Diego, please visit www.sandiego.wish.org and for more information on the Trailblaze Challenge San Diego, visit www.trailblazechallengesd.org.
---
Feeding San Diego- School Pantry Program - Charina L
Thank you from Rosalin, School Pantry Recipient It's so great that people care. You are helping children and families. I live right across the school and I have been coming here since day one. We are eight people in the family right now. My son is disabled so he needs a lot of help. With everyone at home right now, it's very hard for me. I get everything here – lunch, dinners, and I also store some food for later. It's very good for my children. A lot of people need help right now and this distribution is so good. It is 100% satisfying. I appreciate all the volunteers helping here. Tell your supporters they have a good heart. Bless them. Thank you very, very much for your donations!
---
Community Improving Health - One Meal at a Time! - Claire G
2020 was a tough year in many ways - and yet one thing that got us through was Community. At Olivewood Gardens and Learning Center, we strive to inspire youth and adults to become health leaders, model healthy behaviors, and advocate for changes that address health equity issues. Our Cooking for Salud program is one of our most impactful programs - 8-weeks of intensive, hands-on learning with chefs and peer educators. Participants learn healthy recipes and techniques, have opportunities to ask questions and learn from experts, and build strong bonds of friendship. When we realized this year we would have to offer the program virtually, one of our biggest questions was how we would ensure all participants could have a true experiential learning opportunity. The act of chopping, stirring, peeling, being in the kitchen - these are all such key pieces to our truly transformational program. We realized it was crucial to provide activity kits that participants could use at home to prepare healthy meals for themselves and their families alongside the program educators. And this is when Frank Subaru National City stepped in! The amazing team offered to support the purchase of activity kits for all program participants for the entire 8-week program. Activity kits included kitchen basics like olive oil and spices, as well as hearty grains, vegetable proteins, and fresh fruits and vegetables. Each activity kit created multiple dishes and served full families. The Frank Subaru team joined us at the gardens to learn from our Cooking for Salud Coordinator and Generation #1 Kitchenista - Patty Corona; shared our story with their community, and focused on true community-centric support. Some testimonials from our program participants: "Having had the opportunity to take the Kitchenistas course has helped me expand my knowledge about how to achieve a healthy diet for my family. Here I have learned that, even, it is not only about cooking and eating well, and we are already healthy. That achieving full health is also about exercising our body, giving it adequate rest, nourishing our mind, our spirit. That precisely when preparing to cook, one begins to nurture the spirit by connecting with food, enjoying its aromas, colors and feeling grateful to the land and the people who contribute to having them on the table, to later enjoy them with the family. So, I've done a lot of my part to incorporate this balance into my daily life and pass it on to my loved ones. This has definitely helped us to further alleviate the stress caused by these times." "For me, all the classes and the chefs who participated leave me a great learning experience. In particular, the Cooking for Salud program means like to open a door to the knowledge of how to lead a full and healthy life that is only achieved by learning to eat. I also think by rescuing the recipes of our grandmothers that were made without so many processed products, which is what slowly without realizing it fully, our body is affecting us and for this reason endless diseases appear. I consider that my great challenge is to try to be an example to follow for my family, to always be constant in preferring healthy food." We are grateful for the Frank Subaru National City team and their commitment to our community! Thank you! Claire and the Olivewood Team
---
Frank Subaru Supports LLS - AGAIN! - Nicole M
The incredible team at Frank Subaru once again was a tremendous partner in support of the Leukemia & Lymphoma Society's Children's Holiday Party. In 2020, we had to take our annual celebration virtually, which meant that instead of a toy drive we needed to secure gift cards for our patients and their siblings. Our goal was to provide holiday joy to 100 local families navigating a pediatric blood cancer diagnosis. With the generous support of Frank Subaru, we were not only able to deliver gift cards to every patient and all of their siblings, but we were also able to host a virtual holiday celebration, including a visit from Santa and Mrs. Clause! It was a perfect holiday evening and brought a lot of joy to LLS families! Thank you, Frank Subaru, for "sharing the love" to our most medically fragile community members! For one evening, our families could think about something other than cancer!
---
Helping San Diego's homeless and hungry - Cara M
Thank you Subaru for making a difference in the lives of those experiencing homelessness and hunger! Subaru donated (50) boxes of hygiene items, socks and other necessities to the San Diego Rescue Mission. Each box was filled by a Subaru employee with a variety of items with our students in mind. What a blessing to receive such thoughtful and essential items. We are so grateful for what you do. Ending homelessness is a community effort - thank Subaru for being part of the solution!
---
Frank Subaru Loves Pets - Mandy M
Frank Subaru, along with Subaru USA and the ASPCA, made a huge impact for homeless animals in the Chula Vista Animal Care Facility during Subaru Loves Pets Month. Our month long virtual adoption event helped over 100 animals find forever homes. Our animal shelter greatly appreciates the support during Subaru Loves Pets month, and year round, from Frank Subaru. We have a wonderful partnership with Frank Subaru and are appreciative to have such a caring corporate neighbor.
---
Time for a clean change - Marianela C
We're proud to have Frank Subaru sponsor our Miracle Babies Diaper Distribution event that took place right here in their backyard at the National City Library. Registrants were able to swing by and pick up 2 packs of diapers for their little ones and if you happened to bring your kiddos along, they were met with special guests cosplayers from the SciFi Coalition who joined in on the fun! A record-breaking 501 families were able to participate and enjoy some new diapers.
---