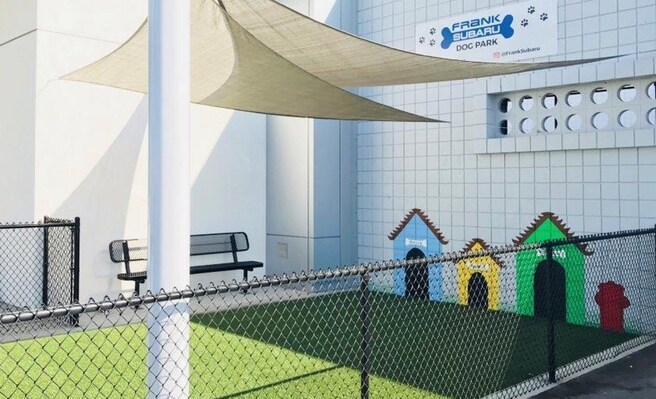 Because Frank Subaru Loves Pets, we have built a Dog Park in our
brand new superstore
! Bring your dog by while you get your Subaru serviced or shop for a
new
or
used vehicle
and let your dog(s) play in the park.
Our Subaru dealership is designed with all of your family members in mind. That's why we offer FREE Pet ID Tags for your dogs and cats! Talk to our staff and he or she would be happy to make you one!
Visit Subaru's only dog park in San Diego, National City, Kearny Mesa, El Cajon or Carlsbad.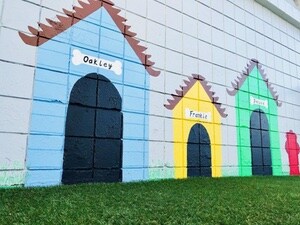 Who Are the Dog Houses Dedicated To?

The little yellow dog house in the center is dedicated to our mascot,
Frankie
(a Yorkshire Terrier). The blue and green dog houses on either side are dedicated to his much larger cousins,
Oakley
(Golden Retriever) and
Deuce
(Golden Labordoodle).
Together, they love to play in the dog park and hang out at the new Subaru store!
---
Dog Park Rules
Use the park at your own risk.

Owners are legally responsible for the behavior of their dog(s) at all times.

Dogs must be leashed while entering and exiting the park.

Dog waste must be cleaned up by their owners IMMEDIATELY.
Owners must be within the dog park and supervising their dogs with a leash readily available.

Dog handlers must be at least 16 years of age.

Bring children at your own risk. Children under the age of 13 must be accompanied by an adult and supervised at all times.

Aggressive dogs must be removed immediately. 

PROHIBITED:

Human & Dog Food/Treats
Sick Dogs
Aggressive Dogs

Glass Containers
Dogs in Heat
Puppies (under the age of 4 months)