Our Dealership is Taking Precautions to Keep You Safe

- Janitorial Service has reinforced the cleaning of all public areas.
- CDC approved cleaning supplies are used on all surfaces. 
- Increased frequency and extent of cleaning.

- Large and spacious showroom and waiting room where social distancing can be maintained.

- All desks have hand sanitizer available.

- All chairs and desks are wiped down with Purell surface disinfectant after each customer.

-Nitrile gloves are provided for each customer. Gloves are: Chemical Resistant, Puncture Free, Latex Free, Powder Free, Textured Surface
- Service advisors wear protective gloves.

- Service advisors wipe down their work stations in between customer interactions.

- Service technicians wear a new pair of gloves on every customer vehicle they work on.

- Driver seat covers and disposable mats are placed in customer vehicle prior to any work being done.

- All steering wheels, door handles, shifters and e-brakes are wiped down before returning the vehicle to a customer.
- Providing Lyft service to and from the dealership regardless of the time it takes to complete the work within 25 mile radius.
Learn More
Make Your Shopping and Service Experience Faster and Easier

- Shop from home! With our Seamless Shopping tool, you can work the deal directly from home!

- All sales appointments are by appointment only.

- Only 2 appointments are scheduled at the same time and will be completed within a 2 hour period.

- The last appointment is scheduled at 3:00PM.

- We are available to talk any time by Phone, Chat or Email.

- Our Parts & Service Departments are Open and ready for business! Call or schedule an appointment online.

- Our Service Department is taking many sanitary precautions to ensure our employees and our customers are safe.

- We will provide you with a Lyft to and from the dealership so that customers do not have to wait in the lounge.

- Our Service Manager is here to work with you to get your vehicle serviced in the way that makes you feel the most comfortable.

-Our service waiting area and showroom is quite large and spacious where social distancing can be practiced.

Start Shopping Now
Community
We are here for you during this difficult time to make sure you and your family are not only safe in your vehicle, but also safe and healthy at home. Our Love Promise remains at the center of all of our decisions as we put our customers and our community first.

Love Promise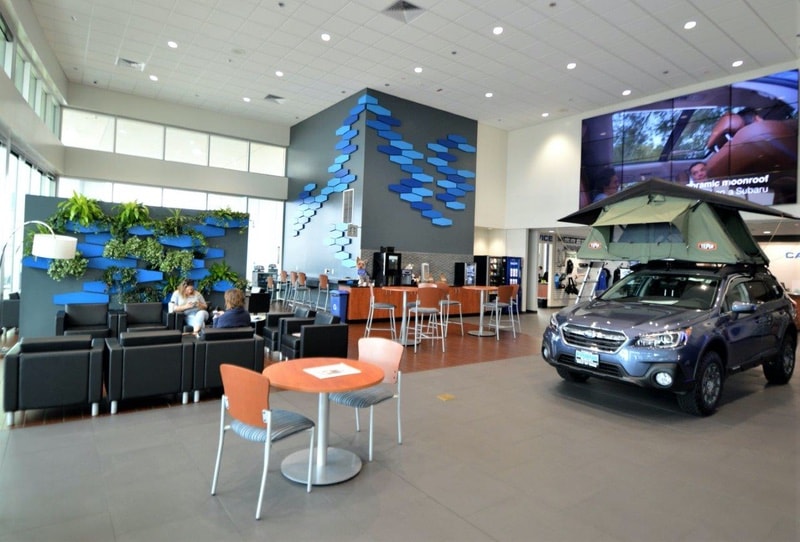 Service Hours
Monday

08:00am - 05:00pm

Tuesday

08:00am - 05:00pm

Wednesday

08:00am - 05:00pm

Thursday

08:00am - 05:00pm

Friday

08:00am - 05:00pm

Saturday

08:00am - 05:00pm

Sunday

Closed